It is safe to say that the honeymoon is over for Todd Graham and the Arizona State Football team.
After a rocket start at 5-1, Graham and the Sun Devils hit the meat of their schedule and lost four straight to No. 5 Oregon, No. 17 UCLA, No. 15 Oregon State and No. 19 USC.
Graham is now poised to take on a familiar face in Arizona Wildcats coach Rich Rodriguez. They first met in 1993 on the football field where Graham played defensive back and was hired on as Defensive Coordinator five years later.
The site was Norris Field on the campus of East Central University in Ada, Oklahoma. Rodriguez was in his third year as head coach of small Glenville State College in Glenville, West Virginia, 90 miles south of his alma mater, the University of West Virgina.
The NAIA Championship was on the line. Graham's defense bested Rodriguez's offense, 49-35. Although Graham's Tigers won the Championship, it was Rodriguez who was named Coach of the Year and was eventually hired on as the head coach at the University of West Virginia in 2001. One of the first coaches Rodriguez hired was Todd Graham as his Linebackers Coach.
Graham was promoted to Co-Defensive Coordinator and parlayed that into his first college head coaching job at the University of Tulsa.
Now, the two will meet again—nearly 10 years later—as opposing head coaches.
I will break down the game, the matchups and relive some of the great memories of one of the best rivalries in college football.
The Territorial Cup
The Territorial Cup is one of oldest trophy rival games in college football. It originated in 1899 when the University of Arizona hosted the Arizona Territorial Normal School in Tucson.
Upon the victory for the "Normals" on that Thanksgiving Day, the cup was inscribed with the following: "Arizona Foot Ball League Championship 1899 Normal." This inscription has certified the cup as the oldest trophy in college football history.
The Cup was misplaced and lost for several decades, finally being located in 1980 in the basement of a church adjacent to the current Arizona State campus. It was then moved to the University Archives and placed on display for all to see.
It wasn't until 2001 when Arizona State President Lattie Coor ordered that the Territorial Cup be shared with the University of Arizona, with the winner of the game taking possession of the cup until the next year's game.
Series History
After winning the inaugural Territorial Cup Game and having their name forever inscribed on the trophy, Arizona Territorial Normal School went on to lose nine straight games to the University of Arizona over the next 30 years. They managed only three points, total, during these nine contests.
The University of Arizona eventually lost in 1931, but went on to win the next 11 games over the next 16 years. The game became an annual event in 1946 and gained its true rivalry status at that time.
1946 – 1949 Arizona 3 – Arizona State 1
1950 – 1959 Arizona 3 – Arizona State 7
1960 – 1969 Arizona 4 – Arizona State 6
1970 – 1979 Arizona 2 – Arizona State 8
1980 – 1989 Arizona 7 – Arizona State 2,  Tie in 1987
1990 – 1999 Arizona 6 – Arizona State 4
2000 – 2009 Arizona 4 – Arizona State 6
2010 – 2011 Arizona 1 – Arizona State 1
The Arizona Wildcats currently lead the rivalry 47-37-1, but trail 26-35 since the game became an annual contest.
Expect the Unexpected
One thing that you can say about rivalry games is that they are a different type of game. Legendary Arizona State football coach Frank Kush has said that any coach can come to Arizona State and be 11-0 going into the Duel in the Desert, but if he loses, his season will be considered a failure.
With that said, many ASU pundits believe the opposite to be true.
Regardless of what the pundits, students or fans believe, neither Graham or Rodriguez want to lose their first Territorial Cup game.
It seems that this rivalry game's trend is to never go with the favorite heading into this game.
In 1997, Arizona State was 8-2 and Arizona was 5-5. The result? The Wildcats won in Tempe, 28-16.
In 2004, Arizona State was 9-2 and Arizona was 2-9. The result? Arizona came away with the 34-27 win.
Home field advantage also doesn't factor into the equation, as it has actually been a detriment. Each team has only won at home four times apiece in the past 20 years.
As Arizona is ranked No. 24 in the BCS and is playing at home, what do you think will happen?
Key Matchups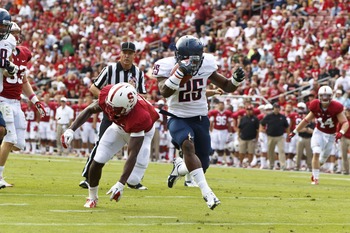 The University of Arizona has the nation's top rusher in Ka'Deem Carey with 1,585 yards. The Arizona State Sun Devils have the nation's third-best defender in interception yards, Alden Darby, with 154.
Arizona has the sixth most prolific yard-producing offense with 5,740 total yards and ranks eighth with 521.8 average yards per game.
Arizona State leads the nation in sacks with 48 and yards lost on sacks with 307. They are seventh in the nation with 17 interceptions and sixth with yards gained on interceptions and sixth in defensive touchdowns.
Arizona quarterback Matt Scott is second in the Pac-12 with 3008 passing yards to ASU's Taylor Kelly with 2,581.
Ka'Deem Carey and ASU running back Marion Grice are tied for second for scoring in the Pac-12 with an average of 12 points per game.
Arizona State punter Josh Hubner leads the Pac-12 in average yards with 46.8 yards per punt.
Arizona is 21st overall in scoring offense with 37.5 points per game but ranks 103rd overall in points surrendered with 33.6. Meanwhile, Arizona State is only seven spots behind Arizona in total points scored with 36 and their defense is ranked 36th overall, giving up only 23.1 points per game.
We have a matchup of two comparable offenses, but Arizona State's defense is better than Arizona's—far and away the better.
This will be a very interesting game.
Final Outcome and Prediction
Rivalry games are fun. The pageantry and trash-talking is never-ending. The team pride is rich and can sometimes be downright ugly.
For this writer, it has leaned toward the ugly side. I have seen some of the worst experiences due to the fact that I am an Arizona State alum who lives in Tucson.
I am a lightning rod every time I set foot outside my home whenever the University of Arizona does well or Arizona State University performs poorly, regardless of the sport or team they played.
That said, the University of Arizona has a good football team, but I believe that Arizona State University will prevail and bring the Territorial Cup back to its rightful home in Tempe, Arizona.
A final intangible is the fact that Arizona coach Rich Rodriguez can't seem to win rivalry games. In his three-year stint at the University of Michigan, he never beat his chief rivals in Michigan State and Ohio State.
Arizona State 41, Arizona 34