The Arizona State Sun Devils are now 4-0 for the fifth time in the past 28 years and are looking to start the season at 5-0 for the first time since the 1985-1986 season.
The Sun Devils currently lead the series against the Creighton Blue Jays 4-2, but they haven't played in nearly 40 years. The Blue Jays are sitting at 5-0 and ranked No. 12 in the USA Today/Coaches Poll and No. 14 on the AP Poll.
Where: Orleans Arena, Las Vegas, Nevada.
When: Saturday, Nov. 24 at 9 p.m. MST
Watch: ESPNU
Listen: 620-AM in the metro Phoenix area or ASU All Access on the web.
Arizona State coach Herb Sendek has 36 wins against ranked teams in his 20-year career, but only seven wins in the past seven seasons with ASU, and five of those were at home. In the 11 seasons prior to Sendek's arrival, ASU went 5-66 against ranked teams.
This Creighton team is going to test the Sun Devils in a way they haven't been tested in a while. The Blue Jays have won all five games this year by double-digits, including last night's game against the Wisconsin Badgers, who were ranked No. 24 on the USA Today/Coaches Poll.
The Blue Jays are one of only five teams that are 5-0 with all victories by double-digits; the others are Indiana, Northwestern, Mississippi and Florida.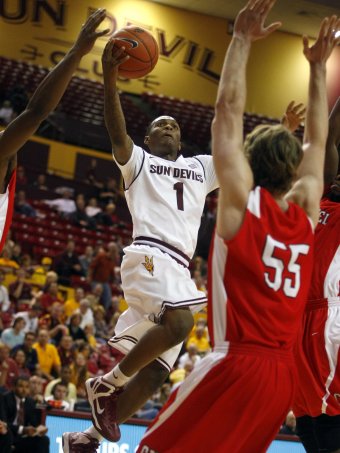 The Sun Devils are clicking and running on all cylinders with freshman phenom Jahii Carson and junior center Jordan Bachynski leading the way.
Carson is leading the team in scoring with 75 points and is averaging 18.8 per game. He also leads the team in assists with 18 and free throw attempts at 38. His 22 field goals lead the team, and he is second on the team in three-point percentage, hitting 4-of-9 from beyond the arc.
Bachynski continued his dominance and notched his third double-double in four games with 14 points and 13 rebounds yesterday. He leads the team in blocks with 26 and rebounds with 43. Although he hasn't posted a triple-double in his career, he is averaging double-digits in points (13.3) and rebounds (10.8). He averages an amazing 6.5 blocks per game. He also leads the team in field goals hitting 20-of-31 for a .645 percentage.
The senior captain Carrick Felix had a monster game yesterday against the Arkansas Razorbacks with a career-high 24 points as well as four three-pointers in 27 minutes. Felix is second on the team in total points and points per game. He leads the team with 11 steals and three-point percentage, hitting 7-of-13 from long range.
Chris Colvin has been a shining star off the bench and exemplifies the sixth man role for the Sun Devils. Averaging fewer than 25 minutes per game, he is fourth on the team with 43 total points and 10.8 per game. He is also averaging four rebounds and three assists per game and has the third most steals on the team with seven.
Sophomore Jonathan Gilling, the "Great Dane" continues his spectacular play at power forward, grabbing 13 rebounds yesterday to bring his average to 10 per game. He is averaging a team-high 36.5 minutes per game and leads the team in free throw percentage. He has four blocks and six steals while averaging just under 10 points per game. Gilling is one of the most well-rounded players on the team.
The matchup this evening will be tough with new Creighton point guard Austin Chatman hitting career-high stats in his last three games: 14 points last night preceded by seven rebounds and 11 assists prior to that.
The Blue Jays have been sharp-shooters from the charity stripe, hitting 22-of-25 from the line against Wisconsin last night, and are hitting 78.6 percent for the season and outscoring opponents 92-40.
The superstar of the Blue Jays is without question Doug McDermott, who is averaging 23.7 points a game with his 30-point effort last night. McDermott has scored 30-plus points in eight games and has notched 20-plus in 33 games, with his career-high at 44 points.
If the Sun Devils can contain McDermott and avoid sending the Blue Jays to the line, they can win this game and thus their first in-season neutral tournament since the 1994 Maui Invitational. Coach Bill Frieder led his team past Texas A&M, No. 16 Michigan and No. 7 Maryland.
This team has a lot more talent than the 1994 team, so I don't put it beyond the realm of possibility, I just don't see them beating this tough Creighton team.
Creighton: 84, Arizona State: 73